In 2011, I am participating in Project Life.
I'll take a picture a day to document our lives in 2011. I started this last year, but had to put it in on hold when we started our renovations. But I absolutely loved it! I'm going to be doing Project Life digitally this year-so I feel very tech savvy right about now!
I'm also going to post my pictures on my blog weekly in Project 365.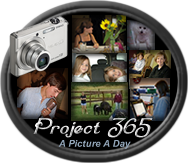 So here's a quick review of the first 2 days of 2011!
Day 1: We started 2011 by sleeping until 10:30 then stayed in our p.j.'s all day. It was heavenly! We went to Smokey Bones for dinner and played Mexican train the rest of the evening. I love family days! May 2011 be filled with many more days just like these!
Day 2: Mom & I scrapbooked the night away! We made page kits and ended with 20 pages by the end of the night! Hoping to do this alot more this year!
Here's hoping your year has started as great as mine!