Mini Pot Pies-that's what!
I made
mini apple and cherry pies
awhile back and they are big hit everytime I serve them. I invested in these half pint mason jars just for that recipe. But I wanted to come up with more recipes to use them with.
Enter Mini Pot Pies
!
So here's the recipe:
1. Boil boneless skinless chicken in chicken broth. I used thighs because they're cheaper and tastier in my opinion. But you could certainly use breasts.
2. Cut up the chicken. Then in a large bowl combine a can of cream of potato soup and a can of cream of chicken soup.
3. Add frozen vegetables of your choice. I used corn and chopped up fresh mushrooms since my family does not like most other veggies. Combine all the ingredients.
4. Using the refrigerated pie crust (I use the store brand since it's cheaper) cut circles that are a little bigger than the jar opening. Cut slits in the crust.
5. Fill the jars with the mixture. I was able to fill 6 jars.
6. Place the crusts on each jar creasing the edges to look pie like. Bake for about 30-45 minutes on 350 degrees.
The end result was deliciousness. I would even make these when I entertain. I was worried that the jars were a little small and might not be a full individual serving. But it was plenty. The kids and I each ate 1 and my hubby ate 2. I served a salad with the pot pies too.
Don't go anywhere yet...
What's for Dessert??
MISSISSIPPI MUD PIE
Gather these ingredients and get started!
1. Mix a devils food cake mix with pudding with 3 eggs, 1 1/2 cups of water and 1/2 oil.
2. Pour into a greased 13x9 pan.
3. Sprinkle with chopped pecans. I only sprinkled the pecans on 1/2 the cake since my kids aren't nut fans.
4. Bake for 40 minutes at 350 degrees.
5. Right out of the oven spoon marshmallow fluff on the cake.
6. Put the cake back in the oven for one minute. Then spread the fluff on the cake.
7. Dump a container of chocolate frosting ( I used the dark chocolate) into a bowl and add 2 tbsp. of milk. Stir until creamy.
8. Pour and spread the frosting on the fluff and spread. Cool completely and enjoy!
The result: YUMMY and a tall glass of milk is a must with this one. This was an easy enough dessert for a weeknight!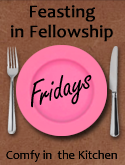 I'm linking here!