I decided to try my hand at these adorable napkins that I've seen around bloggyland using the freezer paper technique that I've been dying to try.
I cut words out of freezer paper on my cricut. Cricut users: the settings are blade-5, pressure-3, speed -3. I had to redo the words a couple of times. Luckily the freezer paper is cheap!
Then, I ironed on the freezer paper shiny side down onto the pressed cloth napkin.
I used a sponge brush to apply fabric paint on the stencil.
I let it dry for about 15 minutes and peeled off the paper.
Love them!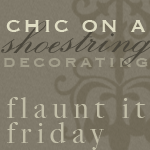 Pin It
- Blessings to you,
Kris
Posted using BlogPress from my iPad