I had sweet peppers in the fridge that needed to be used, so I adapted the recipe on the bag to make these delicioso stuffed peppers!
24 sweet peppers
2 tbsp sun dried tomatoes
1 tsp basil
1 tsp garlic or 1 garlic clove
1 cup mozzarella
1/2 c. sour cream
1 brick of softened cream cheese
1/2 cup parmesan cheese
Mix all the ingredients by hand.
Cut the tops off the peppers and take out the seeds.
I just emptied the seeds over a plastic bag.
Use a small spoon to stuff each pepper.
They look yummy before they're ever baked!
Put them in the oven on 350 for 15 minutes.
You're welcome!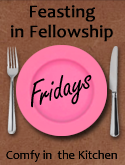 Blessings to you,
Kris